Information under § 5 TMG
Address and contact details are displayed as images due to the risk of spam.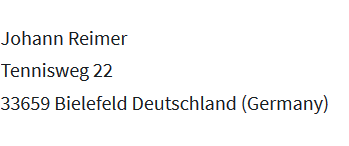 VAT ID. DE326450597
Tax number: 349 / 5254 / 3192
Tax authority Bielefeld-Outer City
Contact
Dispute resolution
The European Commission provides an Online dispute resolution (OS) platform: https://ec.europa.eu/consumers/odr.
Our email address Can be found at the top of the Imprint.
We are not willing or obliged to participate in dispute resolution proceedings before a consumer arbitration board.
Liability for content
As a service provider, we are in accordance with Section 7 (1) of the TMG is responsible for its own content on these pages in accordance with general laws. However, according to sections 8 to 10 TMG, we as a service provider are not obliged to monitor transmitted or stored third-party information or to search for circumstances that indicate illegal activity.
Obligations to remove or block the use of information in accordance with general laws remain unaffected. Liability in this respect, however, is only possible from the moment of knowledge of a specific violation of the law. As soon as we become aware of such violations of the law, we will remove this content immediately.
Liability for links
Our offer contains links to external third-party websites, the contents of which we have no control over. That is why we cannot guarantee this third-party content. The respective provider or operator of the pages is always responsible for the contents of the linked pages. The linked pages were checked for possible violations of the law at the time of linking. Illegal content was not discernible at the time of linking.
However, a permanent monitoring of the content of the linked pages is not reasonable without concrete indications of a violation of the law. As soon as we become aware of violations of the law, we will remove such links immediately.
Copyright
The content and works created by the site operators on these pages are subject to German copyright law. The reproduction, processing, dissemination and any kind of exploitation outside the limits of copyright require the written consent of the respective author or creator. Downloads and copies of this site are only permitted for private, non-commercial use.
To the extent that the content on this page has not been created by the operator, the copyrights of third parties will be respected. In particular, third-party content is labelled as such. Should you nevertheless become aware of a copyright infringement, please inform us accordingly. As soon as we become aware of violations of the law, we will remove such content immediately.
Source: https://www.e-recht24.de/impressum-generator.html
Alternative Dispute Resolution in accordance with Art. 14 (1) ODR-VO and § 36 VSBG:
Die Europäische Kommission stellt eine Plattform zur Online-Streitbeilegung (OS) bereit, die du unter https://ec.europa.eu/consumers/odr findest. Zur Teilnahme an einem Streitbeilegungsverfahren vor einer Verbraucherschlichtungsstelle sind wir nicht verpflichtet und nicht bereit.